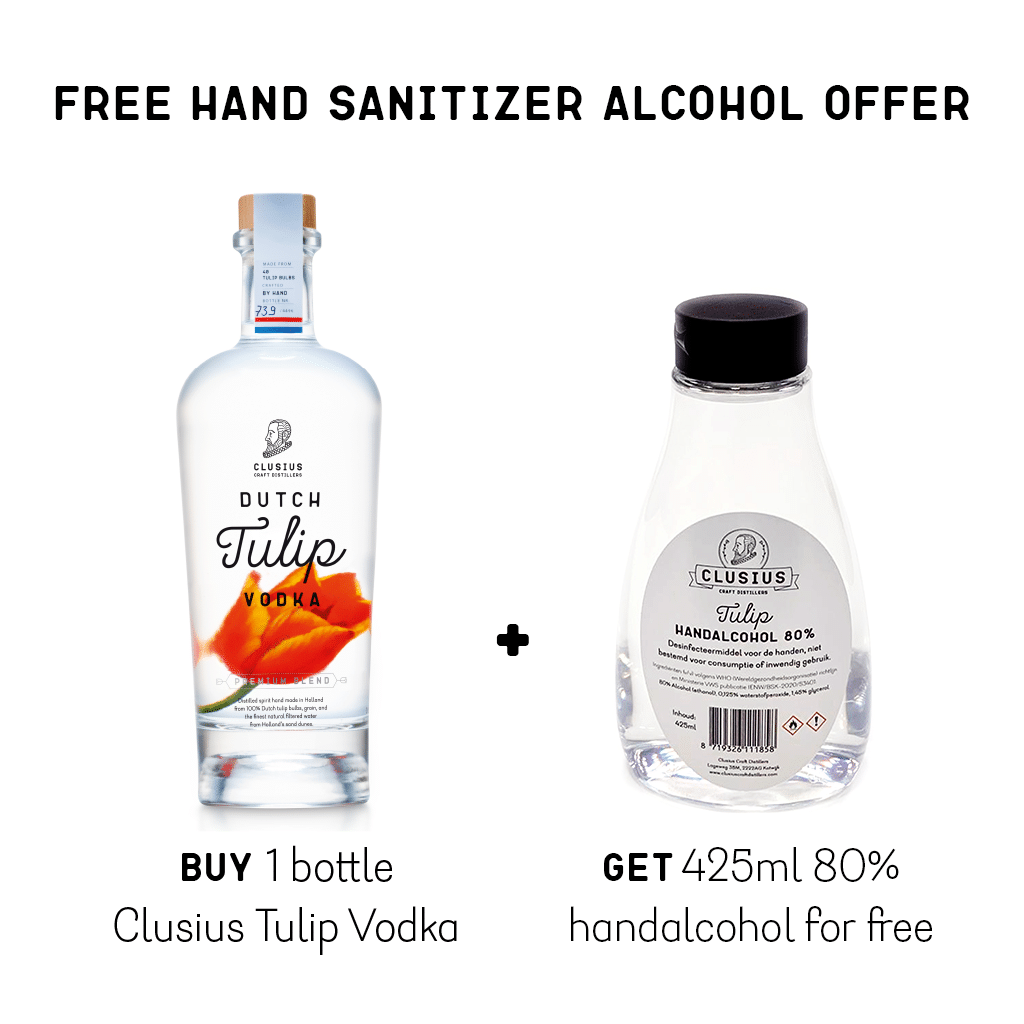 Premium Blend free hand sanitizer offer
When you buy a bottle of Clusius Tulip Vodka you now get a free 425ml bottle of Clusius hand sanitizer alcohol 80%. With this special offer Clusius hopes to get both their customers and the company itself through the Corona crisis in a healthy way.
Click the 'Buy online' button below to order.
Why: To survive the crisis, Clusius Craft Distillers switched to the production of hand sanitizer alcohol. Normally the distillery makes vodka from tulip bulbs. The tulip vodka is mostly served in cocktailbars and sold at Schiphol airport. At the moment these parties have been shut down and sales numbers have fallen for Clusius. The (online) liquor stores are still open but are also facing a hard time. To let everyone enjoy the tulip vodka in good health, you now recieve a free 425ml bottle of hand sanitizer with every bottle Clusius Tulip Vodka.
Separate sales: 
The hand sanitizer is also sold separately from the tulip vodka in various packaging (425ml squeeze bottle or 5 liter jerrycans) to companies, institutions, medical wholesalers and consumers. At the moment there is a great need for hand sanitizer for everyone. Clusius contributes to ensure that the hand sanitizer is availble at fair prices. 
For more information or purchasing requests please click our 'contact' button or send an email to info@clusiuscraftdistillers.com
About the vodka:
A unique premium blend made from Dutch tulip bulbs, grain and natural filtered water from Dutch sand dunes. Each bottle contains 40 tulip bulbs.
This vodka offers a combination of different tones and flavors. Beginning with a subtle undertone of classic grain followed by a composition of dried fruits, floral aromas and gentle mineral tones. This makes Dutch Tulip Vodka PREMIUM BLEND the perfect ingredient for creating new cocktails or rediscovering some of your old favorites.
Dutch Tulip Vodka Premium Blend is made by hand in the distillery of Clusius Craft Distillers.